Welcome to At Last Farm Dog Day Camp & Boarding!
"Simply the Best dog day camp around!"
Going on vacation?
Treat your dog to one, too!
As soon as you arrive, you'll see the difference at this enchanting, heritage farm your dogs will love. Your pets will thank you for treating them to this wonderful experience. We provide dog friendly more home-style boarding and offer one-on-one care in a clean and safe environment. Situated on 7 acres of pristine land tucked away in the redwoods, this North Coast facility features lots of supervised opportunities for your dog to safely explore new places and activities, including a beautiful meadow, heritage apple trees, agility equipment, and a lush garden.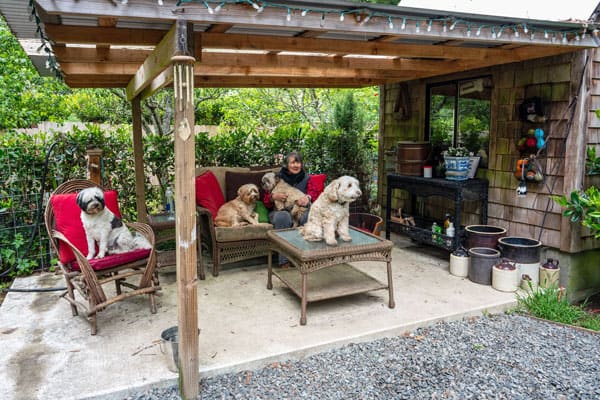 How It Works
Reservations are required for Dog Day Camp or overnight boarding. Please fill out this form and submit it.
Please call for rates and availability.  
Day Camp and Boarding Schedules: 
Open everyday all year long
Day Camp
Half-Day: 9 am – 1 pm or 1 pm – 5 pm
Full Day: 9 am – 5 pm
Home-style Overnight Care
Reservations required. Please fill out this form and submit it.

Drop off:  between 4 pm and 5 pm
Pick up: between 9 and 10 am
Dogs must be picked up by 10:00 am.
Long term boarding available – call for rates and availability.
Dog Day Camp Features
Protected and safe environment with plenty of activities to keep even the most curious dogs entertained.
All areas enclosed by fencing.
Professional care and constant supervision.
Lots of new places to explore. Your dog will have tons of fun while you're away!
Half- or Full-Day Reservations.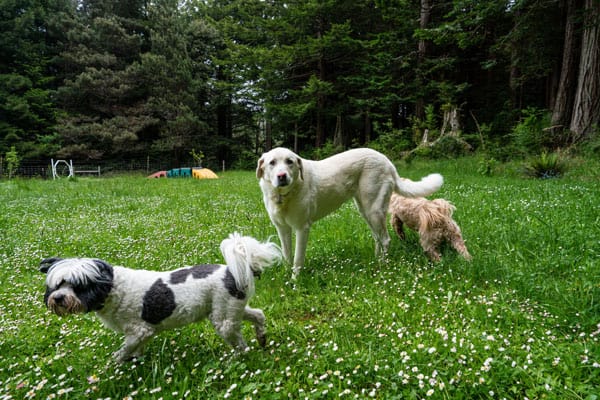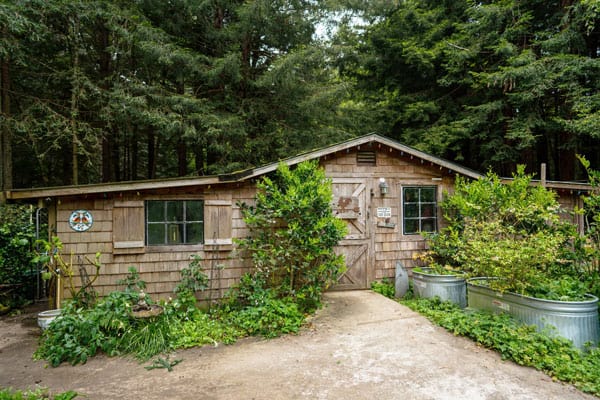 To make reservations or receive more information about At Last Farm Dog Day Camp & Boarding, please contact owner Ann Kanitz at 707-937-2935 or email here
Your Dog's Time with Us
What Your Dog Has To Look Forward To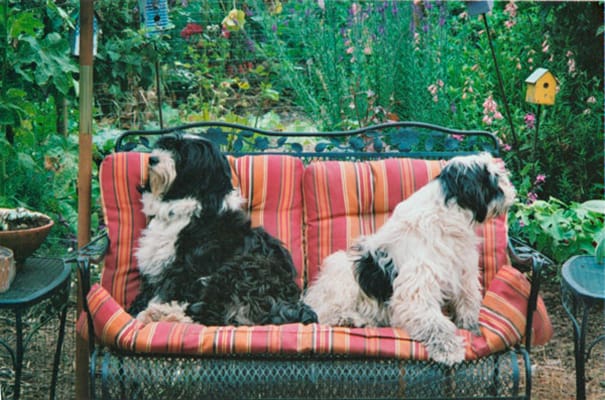 At Last Farm Dog Day Camp is a heritage farm, so dogs who are boarded here will safely enjoy lots of stimulating new sights, smells, and sounds. The 7-acre farm is equipped with dog-friendly enclosed spaces, and the dog day care and European-style boarding facilities are fully licensed by the county. In case of emergency, a veterinarian is on call, and while the dogs are given plenty of freedom to roam within a safe environment, they are always supervised. If appropriate for your dog, they'll also have the opportunity to socialize with the owner's four very friendly and well-behaved dogs.
Although this is a wonderful experience for most dogs, not all breeds and personalities are suited to this environment. Owner Ann Kanitz evaluates every prospective boarding or day camp candidate to ensure that your dog will flourish here.
At Last Farm Dog Day Camp & Boarding Features
1 mile from the village of Mendocino on the beautiful Northern California coast
Lots of personal attention & affection
Veterinarian on call
Vaccination records required
All dogs carefully evaluated for sociability and suitability for camp facilities.
Once you've dropped off your pet, they'll have an amazing time roaming the enchanting property and sniffing out adventure under the towering redwoods. Your dog will feel unfettered and free as they explore, but they'll always be supervised, with plenty of opportunities for pats and TLC. If your pet is more independent and energetic, they'll enjoy the agility equipment, toys, and trails. Dogs that are more timid or relaxed will gravitate toward the shady and refreshing patio area and the verdant garden.
Overnight accommodations are provided in a clean and cozy dog cabin or a comfortable suite, all of which include luxurious beds and access to a protected outdoor area. And of course, whether day camp or overnight guests, the dogs will always get lots of love and attention throughout their stay.
What to Bring
Your Dog's
Camp Packing List:
Food in individual portion baggies or container with feeding instructions
Dog medication with instructions (additional fee)
Proof of vaccinations
Flea & tick prevention (required)
You'll love being able to enjoy our travels and the full Mendocino experience secure in the knowledge that your dog is also having a wonderful time.
Whether you're bringing your dog to At Last Farm Dog Day Camp & Boarding because you're going whale-watching or wine-tasting, headed off on a trip, or simply want to treat your dog to a fun outing, your dog will love it here.
Your dog is a member of the family, and deserves the best! They'll be pampered at our dog day camp and boarding facilities. From the moment your dog sets foot here, they'll enjoy a variety of enchanting places where they can play and explore to their heart's content — all within the spacious confines of the professionally fenced and double-gated 7-acre property.
At Last Farm Dog Day Camp & Boarding benefits from the expert supervision of owner Ann Kanitz. Ann has studied under some of the top teachers, researched the best practices, and observed what works with her own dogs to craft a kind-hearted and effective approach that enables her to provide the best possible care for your dog.
We offer half-days, full days, and home-style overnight boarding.
Reservations required. Please fill out and submit form below: